Electric Chain Hoist - ECH-JB
Product Description
1.With suspension hook, push,geared or electric trolly.
2.Standard lift height 3 m, control cable 2.5m
3.Operating voltage 220-440V,50/60Hz, 1-3 Phase
4.Low voltage control 36V is standard.
5.High efficient energy-saving motor, asbestos free brake system.
6.Light weight, compact and solid body case.
7.Top and bottom hooks are fitted with safety latches as standard.
8.Drop forged steel suspension & load hooks are heat treated and fracture resistant.In case of dangerous overloading or abuse, the hook does not fracture but will slowly yield.
9.Solid chain bucket
10.Super strong surface hardened chain
11.Limit swith devices fitted at both top & bottom ends, swith off power automatically to prevent load chain from running out.
12.Phase error relay, a specially desighed current-post, prevents motor from running at incorret wire connection.
13.Overload protection and thermal protection.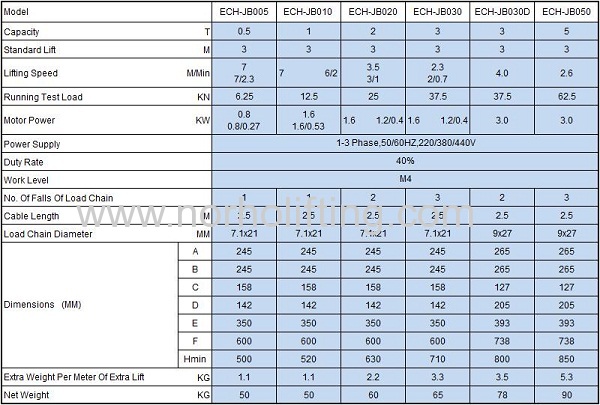 Category: Electric Chain Hoist